The University of Maryland, Cytokine Core Laboratory offers a large selection of cytokine and growth factor assays, for both ELISA and Multiplex systems. Our goal is to serve our clients with high quality data at a low cost. We have the ability to work with Investigators from not only on campus sites, but from around the world. Please feel free to contact us with questions and requests if you do not see an assay you are interested in.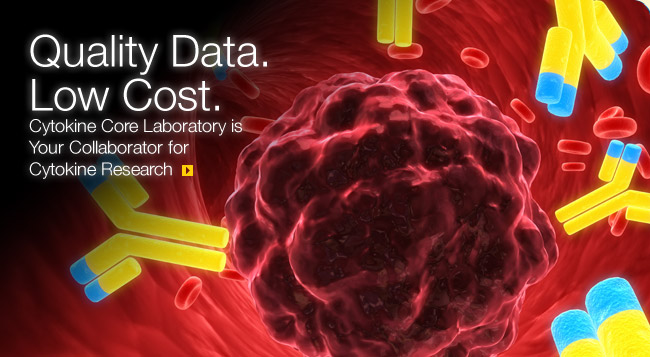 The Cytokine Core Laboratory offers an extensive list of human, mouse, and rat cytokine, chemokine and growth factor assays. Two complementary assay platforms are available, each which have their own unique advantages and disadvantages. We are available to help decide the ideal assay platform for your research needs.
The cost of most of our ELISA assays is greatly reduced by using in-house assay protocols with validated commercial reagents for a wide range of cytokines. If requested, we can also utilize commercial kits for cytokines not included in our standard assay list. Turnaround time is 10 working days or less and results are emailed to the investigator in a user-friendly excel format. Test accuracy is maximized by triplicate testing of each sample and inclusion of an appropriate control in each assay.

Luminex™ technology allows simultaneous quantification of multiple analytes in a single sample, thereby reducing sample volume requirements. We use validated, customizable commercial kits to meet each investigator's research needs. Luminex assays are performed in duplicate and include an appropriate control in each assay.